Spring 2021 saw the finalization of the chartering process for the new Rochester, New York branch of the Industrial Workers of the World (ROC-IWW). After meeting at a 2018 Organizer Training event hosted by the IWW, a small but committed team of local Wobblies dedicated themselves to begin the work necessary to charter a Rochester branch to benefit the entire working class. Since then, a measured approach of slow, intentional, and compassionate actions have grown this group from an affiliate committee working with other New York branches to a functional organizing body that will be scaled up as their membership, resources, and proven solidarity grow over time.
Through collaborative coordination with the Albany Branch (Upstate NY-IWW), Rochester planned a methodical strategy that would include regular communication and one-on-one meetings with many of the hundred at-large members in New York who live and work too far from the state capitol to belong to the existing Upstate branch.
"There had been previous efforts throughout the state to form branches that later failed to self-perpetuate," says Christopher Snyder, citing low levels of direction and structure. To that end, ROC-IWW chose to learn from the efforts of previous proto-branches and upstart locals. By surrounding themselves with experienced and effective liaisons connected to a larger and more established branch, Rochester dutifully worked to understand how best to represent the workers of their region before rushing to charter a potentially unsustainable regional branch."
"We recognize that we have a lot to learn and much work to do. To that end, we have set up a reading group focusing on how the labor struggle intersects with issues of racism, settler-colonialism, disability, and gender identity," explains Snyder. "We must start where we are with what we have. And right now we have twenty workers with a Wobbly flag and a slack channel."
For two years, Rochester worked on their goals by purposefully remaining an organizing committee before applying to charter their own unit three hours west of Albany. Finding and utilizing mentors, understanding best practices, familiarizing themselves with standard procedures, and making connections with other workers in their community were the primary goals of the ROC-IWW as they actively and directly engaged with workers rather than activists.
"When the question of chartering arose it was never an issue to gather enough signatures," said Snyder about the decision to officially charter, "but we waited until the signatures reflected a group committed to regularly attend meetings and engage seriously with the organizing process."
During the COVID-19 pandemic, Rochester's committee meetings became online events and quorum was initially hard to attain; however, attendance and interaction eventually increased until, in 2020, the proto-branch decided the time was right to scale up from an affiliated committee to a fully chartered Rochester IWW Branch.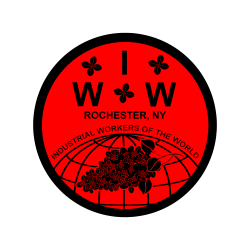 As they gain leads and increase their membership, subcommittees such as an Incarcerated Workers Organizing Committee (IWOC) and an organizing committee for Rochester construction workers. The importance of building a sense of community among workers is a crucial step toward fostering the trust that will lead to solidarity, collaboration, and the further advancement of the singular mission and primary goals of the entire One Big Union.
"Overall our experience with the IWW has been engaging and illuminating," confirms Christopher Snyder, who offers this final takeaway to anyone seeking to organize themselves, their workplace, or even charter a regional branch like Rochester has: "The process has humbled us to the nuances of living in purposeful solidarity with the working class, taking a teaching posture when appropriate, and a learning posture as a default."
As comrades and as Fellow Workers, the IWW wishes Rochester and the ROC-IWW Branch all the best as they agitate, educate, and organize the working class by whom all wealth is created.
If you would like more information about membership, Organizer Training opportunities, or the chartering process, connect with the Industrial Workers of the World at www.iww.org/#organize today.
---
Visit the Rochester Branch online at: