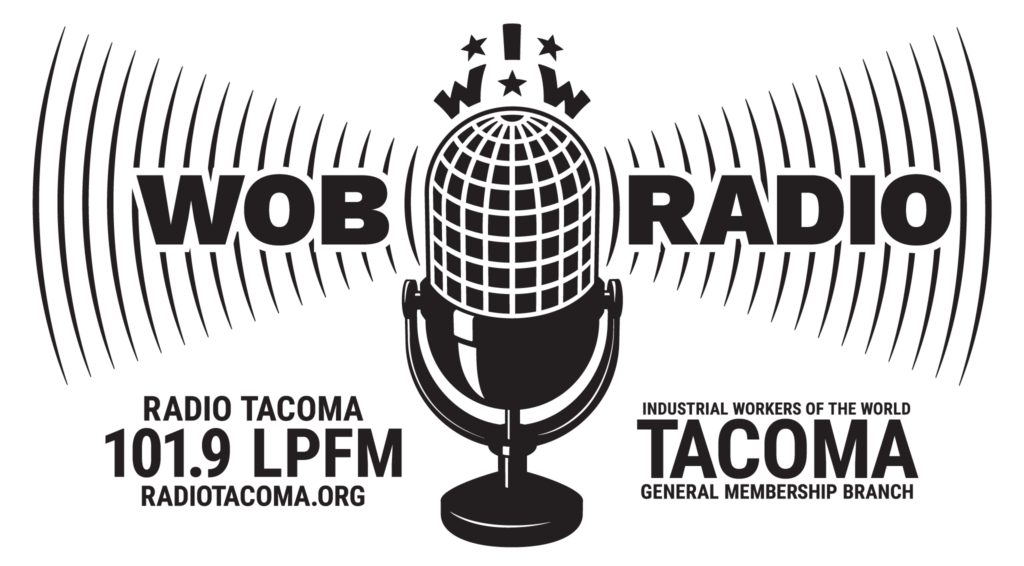 Wob Radio and the fight for worker power over the airwaves
I joined the IWW in March of 2021. Shortly after joining the Tacoma GMB, I had met several of the older members who were involved in a radio program that had been going on for a couple of years at that point. Wob Radio (then known as Wob Radio Hour) was broadcast on Radio Tacoma every week focusing specifically on ongoing workers struggles, organizing campaigns, education on unionism from an IWW perspective, as well as addressing intersectional justice and climate justice. Having been part of a student publication for almost 3 years at my college, and wanting to help the cause of spreading our union's message and values, I eagerly signed on in time for the September episode. Since then, I have been a part of 20 or more episodes of Wob Radio, interviewing local labor organizers in the Tacoma Arts Museum, community members concerned with growing transphobic rhetoric regarding the Puyallup Public School systems' reaffirmation of policies to protect trans kids, as well as DSA members in the Home in Tacoma for All and the Crisis Response campaigns. While we initially remained close to home with a smaller, low power FM station at 101.9 Radio Tacoma KTAH, we have found opportunities to expand to other stations in the Tacoma and northern Puget Sound area. Our show now also plays on 95.3 KTQA in Tacoma and 94.9 KZAX in Bellingham, expanding our show and message to potentially thousands more listeners in the process. Our commitment to the show and our solidarity with fellow broadcasters and contributors has been nothing but a joy to myself and the crew.
Although there are some stations and programming, such as Wob Radio, that occasionally make their way through the cracks in order to represent the authentic values of working class people – let alone radio broadcasts that are pro-union – these stations are often restricted from expanding their potential audience due to the stranglehold that these media conglomerates have over many of the major radio stations. These conglomerates, with the exception of some low power stations, have essentially squeezed out any possibility of opinions which are contrary to theirs, and in doing so exposes the average American listener to opinions and ethics which are often against their better interests in contrast to the interests of capitalists and their sympathizers.
Wob Radio, on the other hand, provides a specific lens of ongoing local and world events, especially in regards to ongoing labor organizing, workers rights, environmental justice and the well-being of marginalized communities. Providing news on ongoing labor organizing and strikes from the perspective of union members, as well as theory and practice surrounding labor organizing and unionism that the average listener can understand, can empower listeners to consider and understand how unions work, how to form a union themselves and consider ongoing events through a working class perspective. This directly counteracts the "both sides" narrative that many major news outlets embrace that obscures what unions do and how they help workers to band together to expand their rights in the workplace. Wob Radio also focuses on local and national events through a climate justice and social justice perspective as well, and expresses a more intersectional view of unionism and current events by taking into account racial and sexual disparities, environmental racism and its effects on communities of color, and anti-discrimination protections for women and LGBT+ individuals through workers rights and unionization.
Through this focus of our broadcast, the show helps plant the seeds of change in our listeners that can encourage them to challenge the capitalist paradigm and organize to change it. However, while we do encourage our listeners to consider joining the IWW and to organize their workplaces, the purpose of Wob Radio is not to be a show that pleads its listeners for membership. Do we encourage our listeners to become a member of the IWW? Do we want them to organize their workplace? Do we encourage workers who share our values or want to see our values in place in their own communities and make the world a better place? To all of this we on Wob Radio say yes, but the idea that membership equals change is also what the AFL-CIO practices, and as history has shown that's not always the case. Not everybody that organizes a workplace with the IWW necessarily has signed a red card, and through our educational content about unionism we spread awareness of solidarity unionism, industrial unionism and minority unionism as alternatives to the traditional, more conservative perspective of craft unionism. We want to empower and motivate workers who, whether or not they already carry a red card, want to help the work of labor organizing step by step.
Gordon Glick, one of our contributors, said it best in our February 2023 episode, when he recounted his experience giving an interview for a podcast: "I was asked not long ago by a podcast host 'So, you want to get all the workers into the IWW?' and I said not necessarily…if we can plant the idea in somebody's head (about) concerted activity for their own self interest they don't have to line up with the IWW…the concept of industrial democracy and horizontal organizing is the most important part. Those seeds that have been planted are starting to blossom in younger workers who finally got the idea. Those seeds that you plant can blossom and grow later and it doesn't have to be with our imprimatur on it."
If there is a goal for the future of Wob Radio, it is this: to provide a media outlet that is accessible to most Americans over the radio that can that can provide timely and accurate reporting from a perspective that that is pro workers rights, pro-union, in defense of the marginalized and that provides an alternative perception of the future of the working class. Instead of radio programming which constantly exposes its listeners to news or opinions that that inherently favors the capitalist class, we could provide a program, potentially even multiple programs, that could fight against the narrative of the capitalist status quo, and could educate workers on how to build solidarity in the shop and take direct action in favor of their rights and their well being. Such a program could potentially reach listeners who could utilize such information and knowledge to their best extent, and could provide an outlet for workers who so desperately need a better vision of what the future could look like for people like them.
The creator of Wob Radio, Marilyn Kimmerling, said it best: "I learn something new every episode from the other members of Wob Radio and particularly enjoy little history vignettes of labor struggles and the history of IWW struggles. It helps give me a sense of perspective in these times." We hope that Wob Radio can find success in this venture, and we hope that you, dear listeners, can tune in wherever or whenever you can to stay informed on the fight for the future of the working class.