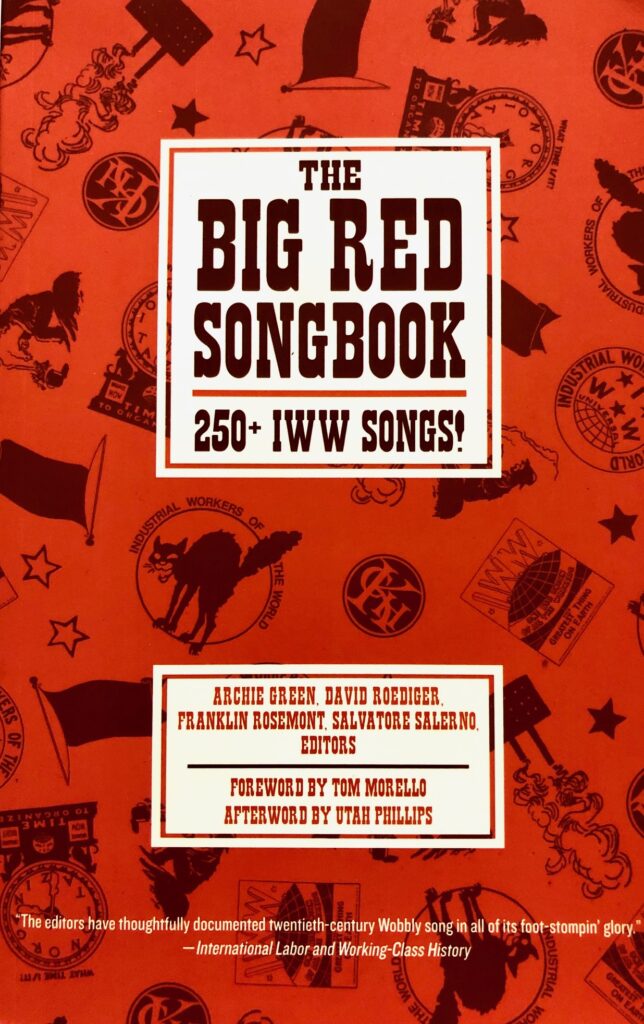 Unique to the Industrial Workers of the World from its beginnings have been the songs Wobblies sang on shop floors and strike lines, in jails and hobo jungles. Wobblies wrote their own words using the tunes of well-known hymns, anthems, parlor songs and vaudeville singalongs. These were first printed in the Little Red Songbook of 1909 and then in many more editions throughout the 20th century. The songs were collected in the first Big Red Songbook, 2006.
Industrial Worker recently spoke with the Foundation Distinguished Professor of American Studies and History at the University of Kansas & Editor of the Big Red Song Book !st Ed. David Roediger. The interview below has been edited for clarity and length.
Industrial Worker: What is the BRS and how did it come about?

David Roediger: The BRS began with John Neuhaus' collecting [songs] and afterwards was a long time project particularly by Archie Green. Fred Thompson, a Canadian Wobbly (a term of endearment for members of the IWW) who I knew in Chicago also encouraged us to compile all the little red songbooks (LRS's) and see what they came to. Fred was long dead by the time the BRS appeared, but a group of people, four of us as co-editors, produced it with the intent of gathering all the songs in the LRS's up to 1973. We thought we would be getting the heart of the Wobbly tradition if we stopped there. It was Archie's idea mainly.
Who was Archie Green?

Archie Greene was this great labor folklorist who had been a shipwright. He was very influential in academic unionism in the United States but also at the University of Illinois where he taught in the 50's and 60's. He was the principal publicist for the folk song movement in Illinois back in those years.

Archie's probably better known for his research on labor slang. We became friends when he interviewed me about the word "Wobbly." He was doing an article on the word. There are probably about 20 different origin stories for it.

Who else were the editors of the BRS?

Archie wrote the preface, Tom Morello had a forward, and Franklin Rosemount had an article about other IWW songs and poems, that weren't in the LRS's. Salvatore Salerno talked about IWW slang and I had an article on John Handcox the great songwriter, singer and poet. Franklin contributed a lot of the beautiful graphics, and Carlos Cortez has an essay. There was a glossary of labor language. And we had singers and songwriters too. Utah Philips wrote an afterword.
Fred Thompson wrote about the older songs of labor. He was one of those old timers who could recite revolutionary poems by heart like Blake's The Little Black Boy and A Man's a Man for A' That by Burns. Fred took a lot of pride in that. "Karl Marx's Whiskers" was one of his favorites when people at a meeting got too sectarian and involved in their own rhetoric.
The idea of having just the songs from all the LRS's quickly expanded to having essays about the songs too. And we ended up not being able to make a firm distinction between songs and poems. Some of the songs didn't scan well and were hard to sing and yet there were good poems without tunes suggested for them. Then too a lot of early Wobblies' mother tongue wasn't English, especially in the east, so a lot of those songs were never sung.
What were some of your favorite songs in the BRS?
The BRS had no printed music as such, just words. The first one on my list would be the poem about Frank Little though I don't know if anyone ever sang it to the tune suggested. It was completely neglected. I became interested in Covington Hall because he had some poems in there with suggestions about what tunes you might use. I tend to like the jaunty irreverent ones like Halleluiah, I'm a Bum by Joe Hill. I'm a big fan of T-Bone Slim, the Wobbly songwriter. I like I'm Too Old to be a Scab and The Popular Wobbly a lot.
---
Interested in learning more? Find The Big Red Song Book in the IWW Store.