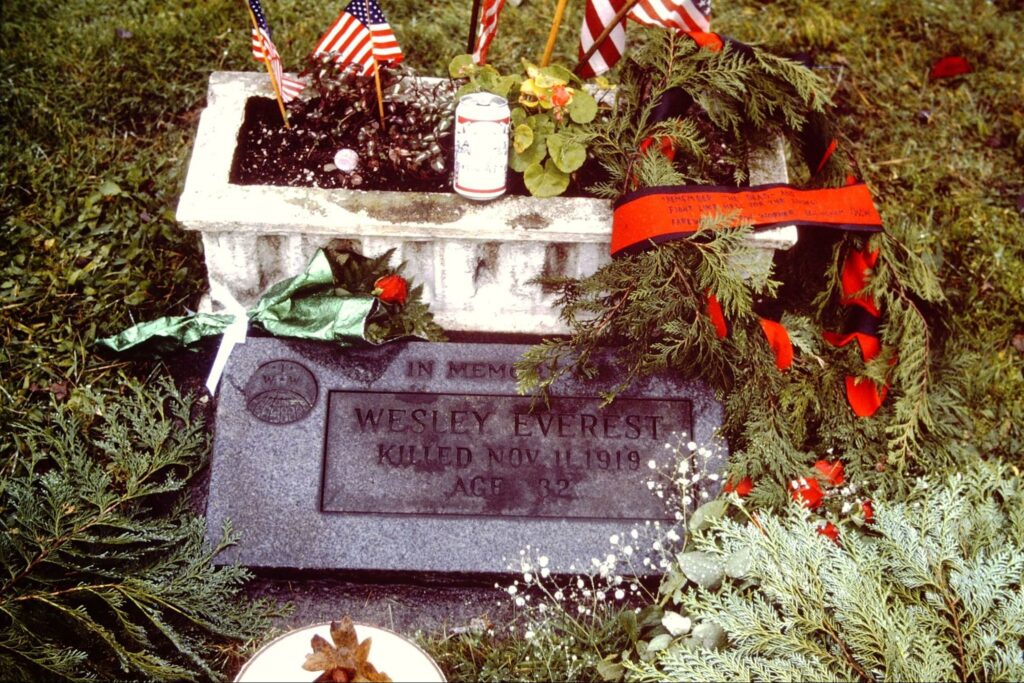 CENTRALIA, WA – On November 12th of this year, members of various western Washington branches of the IWW gathered in Centralia to visit the graves of Wesley Everest and other IWW members who were persecuted and imprisoned as a result of the Centralia tragedy. This tradition, which has been going on annually since 1989, has become a focal point of social gathering among wobblies in the Western Washington area, and is a well remembered and cherished place for fellow workers to gather and remember those who have suffered to ensure the life of our union.
Wesley Everest became a member of the IWW in 1912, and was active in organizing efforts in the Centralia and Oregon Coast areas before he was drafted in 1917 to serve in the Spruce Production Division of the army. He was very familiar with lumber work in the region before the tragedy. Although many would expect his military service to be a turning point towards an attitude of patriotism, as a draftee he was notable for refusing to salute the flag during and after the military, and spent much time in the stockade in Vancouver, Washington, as a form of disciplinary punishment. He came to be a respected and militant member of the IWW local in Centralia after his service concluded, being known for his desire to agitate fellow workers and take up defense when needed. FW Everest was jailed in Coos Bay OR in 1914 for his organizing activity, and shortly later escorted out of town by a committee of business owners.
When credible reports of a planned raid on the union hall began to circulate in the months leading up to the tragedy, he adamantly sought to take the advice of Elmer Smith, a lawyer who had suggested that the Wobblies had the right to defend their hall with force if a raid were to take place. As the hall was suddenly raided during a parade on Armistice Day in 1919, Everest managed to fight off his initial attackers, flee out the back of the building, and shot one of his Legionnaire pursuers with a .45 calliber 1911 that he acquired before the raid. He was detained by other Legionnaires shortly after, and thrown into jail with his fellow unionists in the local jail. Later that evening, he was retrieved by a lynch mob and hung from a railroad bridge spanning the Chehalis River in Centralia. A newer railroad bridge is now in the same spot. Both the raid and the lynching were allegedly planned by Centralias' infamous strike-breaking lumber baron, F.B. Hubbard. 
The story of Wesley Everest is not necessarily unique, nor is the previous retelling of events the most detailed written. Although it highlights the character of a brave man who was willing to defend the IWW and his union hall with his own life, in the big picture he was one of many dozens of people who did the same thing – both in the IWW and in the trade unions – to defend unionism in the United states. Perhaps what makes Wesley Everest stand out is not just his local cultural impact on the union movement in the Pacific Northwest, but how Wesley Everest has come to stand as something of an icon for many Wobblies as an example of someone who was fully committed to the values and efforts of the union. While many in the Pacific Northwest still do not know his name, in the IWW we hold him and many other of our fellow dead close to our hearts, as they represent the true fighting spirit and working class resolve that we hope to spread our union and in the shop.
Why do we Wobblies continue to remember this story every year on its anniversary? Is it because we revel in the memory of a bygone era, of an age when the struggle for workers rights truly required bloodshed to advance? Do we miss the revolutionary zeal, the headstrong passion of men like Wesley, or the silver-tinted memory of direct actions past? No. Our history is not an aesthetic to be curated or a sample of a history textbook, but a living, growing memory of fellow workers and their desire to change the world for the betterment of the working class. We remember Wesley and the triumph of his efforts despite his suffering because we know it is possible not only to forget where we have come from, but also because such repression is a threat to be taken seriously. Around the world, many of our fellow workers and union members are still harassed, threatened, and face violence for their desire for them and their coworkers to better their wages and working conditions, and to extend democracy into their work. Everest's story is both a powerful memory and a historical warning: no matter how hard we fight, the repression of the boss sometimes wins, and even in the face of that, what we do in our lives to better our working conditions will still be remembered by our fellow workers.
We are fortunate in this current age not to suffer the same sorrows that faced the Centralia Wobblies after the tragedy and the show trial that followed it. We show gratitude when we organize that more of our fellow workers do not continue to suffer a similar fate to Everest's. Indeed, we give thanks to those who have died in the line of defending workers rights, for it is by their struggle and sacrifice that we are even able to continue existing as an organization today. Which is why every November, we remember Wesley as we hope to live by his example in life so that we do not face the same persecution that took him so soon from us.
In the month of November we remember our fallen Fellow Workers. Rest in Power. If you would like to submit a remembrance, please email [email protected].