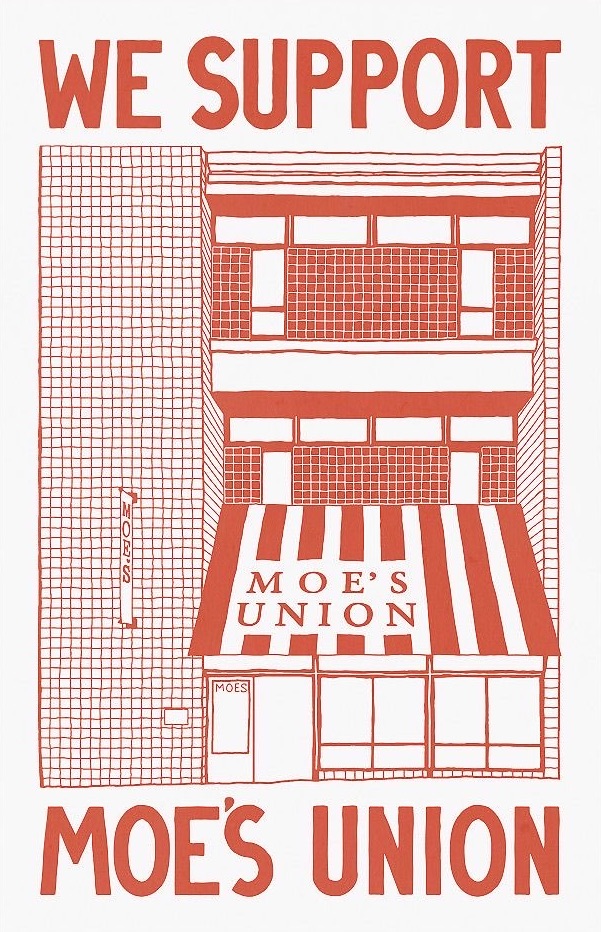 Despite stops and starts in contract negotiations, Moe's Books Union has cause to celebrate. Since organizing with the Industrial Workers of the World and being recognized by their employer in March, the union of booksellers, buyers and other workers at the historic bookstore in Berkeley, California, has been in negotiations to gain more control over their workplace's COVID-19 protocols and to improve job security. As contract negotiations continue and workers learn more about one another's needs, Moe's Books Union looks forward to a healthier, more collegial workplace.
On July 8, Moe's Books Union was surprised to hear that a company lawyer had drafted a last-minute 27-page contract in lieu of individual counter-offers to workers' proposals. This strategy received a wary reception from Noah Ross, a worker at Moe's Books and member of the union.
"Some were just directly lifted from things we had written, which was fine," says Ross of the contract provisions. "Some were things from the employee handbook that were pre-existing and that we are negotiating so that we can change them. And some were just from other contracts. … It felt a little disrespectful of the labor we had put into writing all of these proposals."
Fortunately, the newly proposed contract didn't consume too much of the negotiations.
"We were able to blast through it and then move on to the things that we had actually submitted to them, which went much better than I expected," says Ross.
All parties were to have their non-economic proposals submitted by July 8. However, there are still worker demands that have been absent from discussions. One notable absence has been more progressive disciplinary procedures, a proposal the union submitted weeks ago. At present, disciplinary measures at Moe's Books snowball with little respect for time between infractions or meaningful attempts at communication.
"There have been moments in the past few months where employees have shown up to work on time or 30 seconds late and they've been yelled at and threatened with termination by a manager," says Ross.
Regardless, there is plenty of cause to celebrate among workers at Moe's Books. On May Day, workers prevented unilateral changes to the store's COVID-19 safety policies by management.
Solidarity hasn't just meant fighting for better conditions at Moe's Books either. The process of putting together a better contract has been enriching in other ways.
"Unionizing has really helped bring everyone together," says Ross. "It helped us have real relationships with each other outside of work, which is so necessary. We have this one coworker who's an incredible bread baker, so he brought this beautiful loaf to our last get-together!"
Beyond the delectables and progress on negotiations, it is clear that forming a union and taking these first steps forward has built a better understanding of what workers need. Some of them have worked at the bookstore for decades, some for just a few months, but they are all committed to a better future at Moe's.
Are you interested in organizing a union at your workplace? Contact the IWW today!