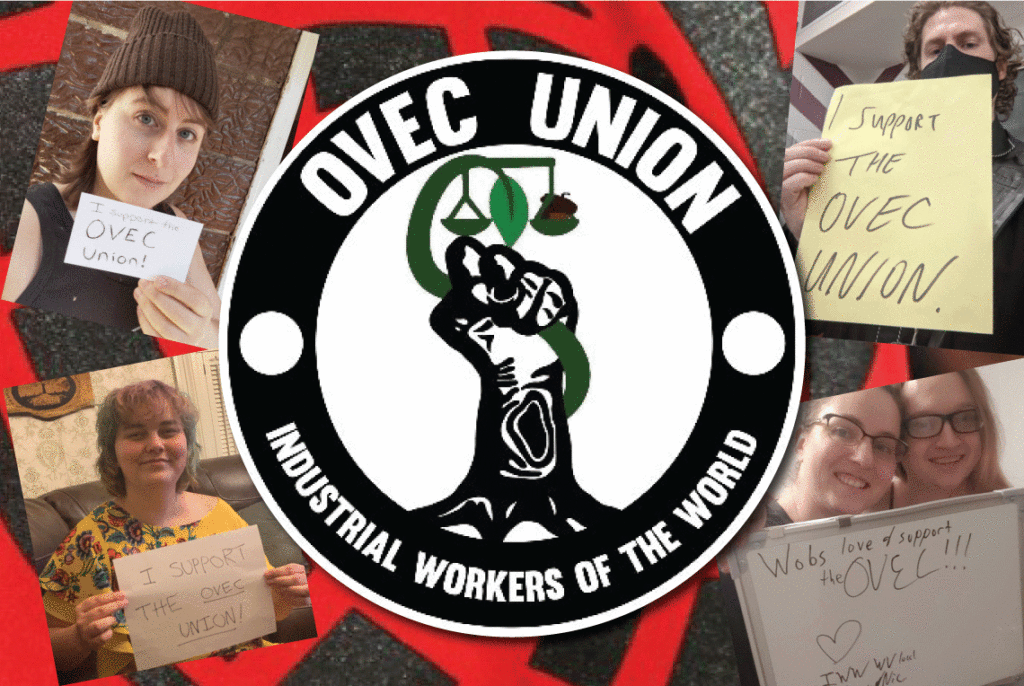 Following the conclusion of a union election on July 9, workers at the Ohio Valley Environmental Coalition celebrated recognition of their union by both management at the Huntington, West Virginia-based environmental nonprofit organization and the National Labor Relations Board. OVEC Union is organized with the Industrial Workers of the World. 
OVEC Union's election success comes five months after workers publicly announced their intention to unionize and requested voluntary recognition from management. When management responded by not only withholding recognition, but by terminating former director of organizing Brendan Muckian-Bates, allegedly in retaliation for union organizing, workers launched a one-day strike and appealed to the National Labor Relations Board for an election. Management finally conceded recognition upon the election's conclusion.
"On July 9, 2021, the National Labor Relations Board held an election in which the majority of OVEC's non-supervisory employees voted to form an OVEC Union," read an announcement on the nonprofit's website. "OVEC's management congratulates the employees on their unionization and we look forward to working with them in the future."
For workers, the journey to union recognition was bumpy, yet certain.
"The recent union election results are a confirmation of what we told management when we first went public: We had the numbers to win," says Muckian-Bates. "We made sure that we talked with everyone in advance, listened to their issues and made it a point to focus on how we could collectively make OVEC better."
With OVEC Union now certified, workers are looking forward to negotiating their first contract with management, also known as "collective bargaining." Workers' demands include a standardized pay scale, equitable discipline policy and the right to union representation at any meeting during which matters affecting pay, hours, benefits, advancement or layoffs are discussed.
"I'm excited to begin the process of collective bargaining so that the union can finally have an opportunity to discuss what we believe is needed to improve our organization, especially after a tough and drawn-out process," says Muckian-Bates.
While workers believe that management is unnecessarily delaying negotiations, they are confident that their recent election victory will help them push forward.
"We want to make it clear that, though they may have been able to avoid discussing or implementing our suggestions in the past, they have a legal requirement to do so now," says Muckian-Bates.
Interested in forming a union at your workplace? Contact the IWW today!