After a week of uprisings, and in the midst of a torrential rainstorm, a few hundred protesters laid down in front of the Ohio Statehouse to honor George Floyd and remember all of the Black individuals murdered by police across the country.
This is not the end of the uprising in Columbus, or anywhere else in the country. Every day since the murder of Floyd in Minneapolis, MN, thousands of people in Columbus have rallied and marched for justice. Not unlike Minneapolis, Columbus has had dozens of murders committed by the cops, including Tyre King, a 13-year-old boy.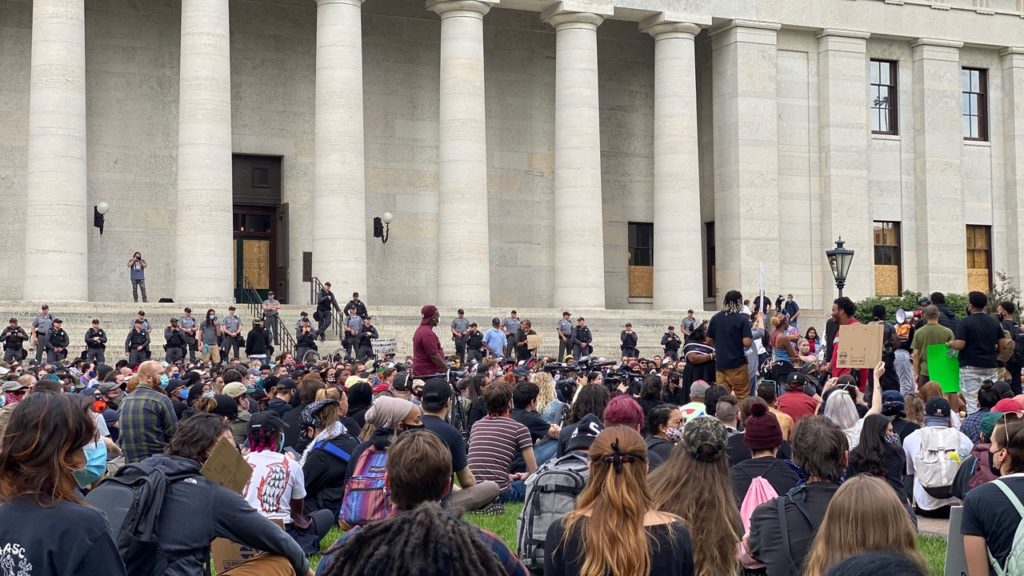 The Columbus Police Department (CPD) is not afraid to murder Black men, even pinning a recent one on Masonique Saunders, a Black teenager, who remains imprisoned in juvenile detention after she took a plea deal to avoid being tried as an adult. Saunders's boyfriend, Julius Tate, was murdered by Eric Richards, a Columbus SWAT officer. Under Ohio's "Felony Murder" rule Franklin County Prosecutor, Ron O'Brien, was able to charge Saunders due to her involvement in a robbery committed by Tate, which served as the excuse for Richards to shoot him.
Over the past decade, no CPD officer has suffered more than a slap on the wrist for killing these citizens. According to the Mapping Police Violence Police Accountability Tool, the 2017 (most recent available reporting) per-capita police murder of Black people in Columbus was the highest in the country, higher even than cities like LA, Chicago, Atlanta, and NY. Excessive use of force has been a common theme in the capital city, which has skyrocketed over the past week as CPD determined the best way to respond to uprisings over police violence — is more police violence.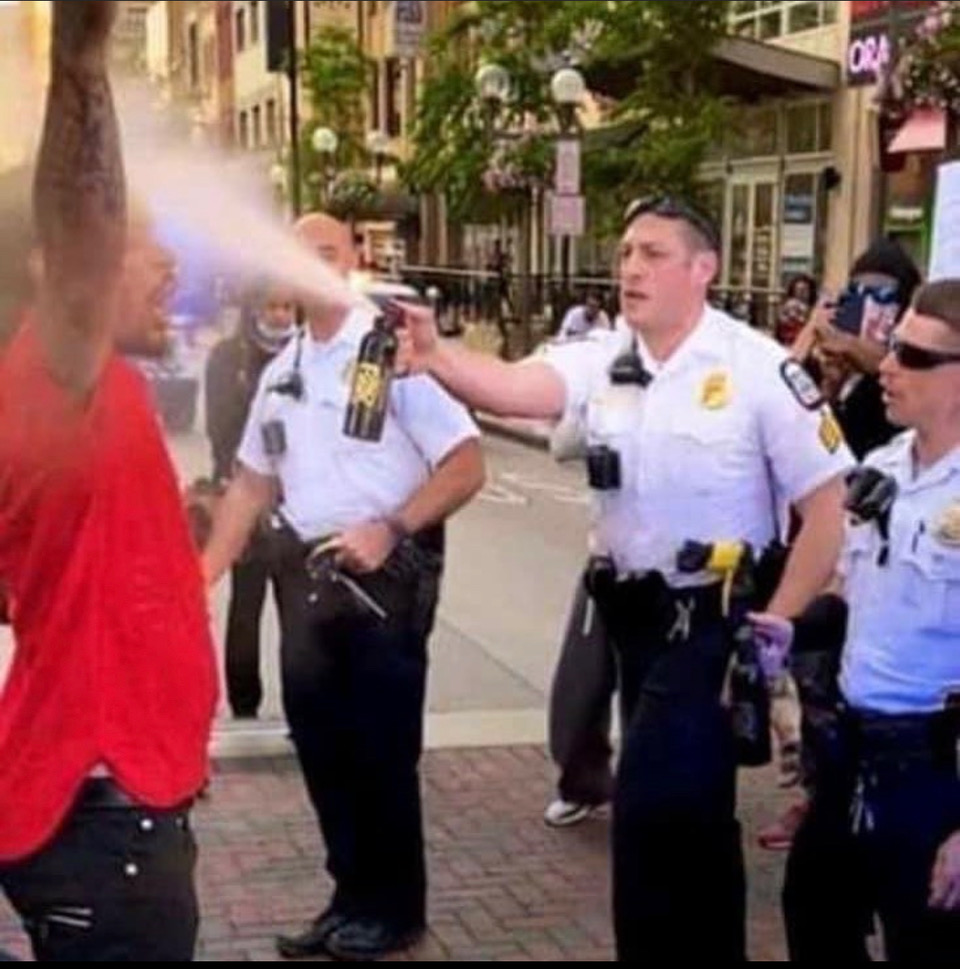 In the first 24-hours of the protests, protestors were blamed for smashing windows at the historic Ohio Theater, that is until video evidence was posted online showing that it was CPD officers defacing the property.
Mayor Andrew Ginther continued to praise the police even as they were caught destroying first aid and water stations throughout downtown – including one at the Trinity Episcopal Church, known for its long-standing outreach to the unhoused, underprivileged, and addicted. In his response to calls for de-escalation of police violence, Ginther responded on Twitter that his administration was taking proactive steps to address "aggressive" incidents by CPD. When asked to clarify, he wrote, "Proactive as in no one needs to file a complaint with Internal Affairs. We are investigating."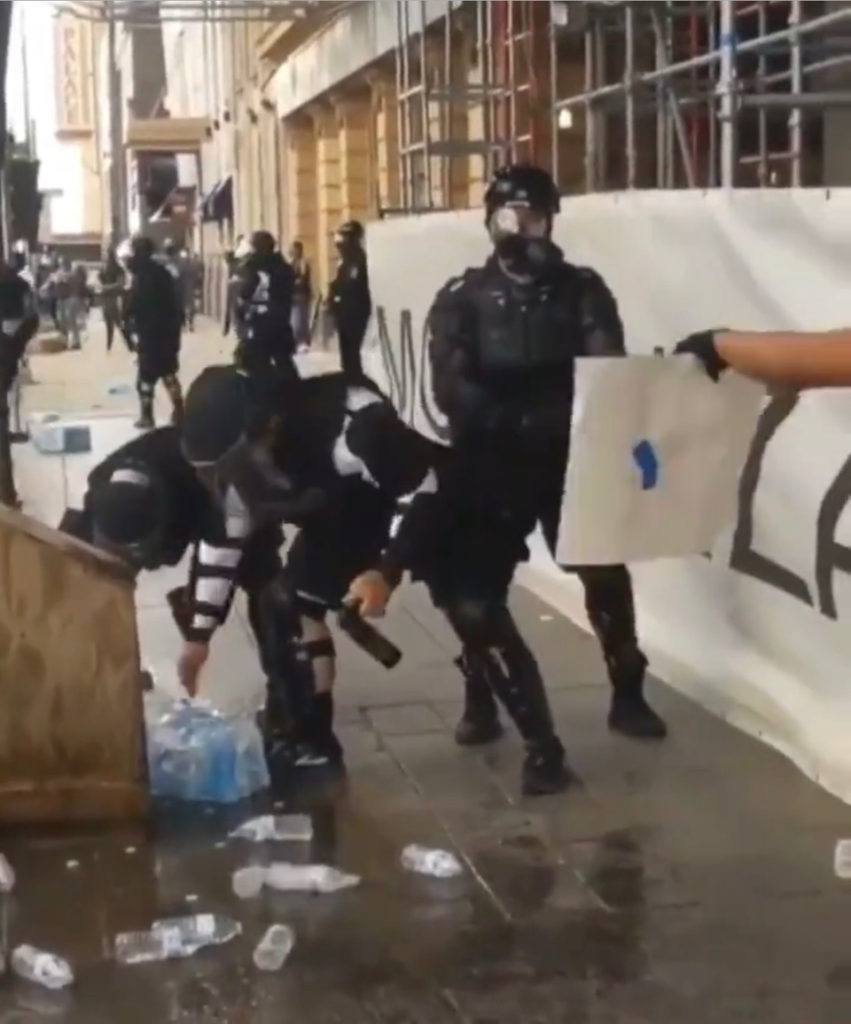 Following on the heels of Ginther's statement, the Governor of Ohio, Mike DeWine, called in National Guard troops. The irony of this being the 50th anniversary of Governor Rhodes calling the National Guard troops in to end the peaceful protests at Kent State – a massacre not forgotten in Ohio – was also not lost on anyone marching for justice.
The City of Columbus, like so many across the country, have implemented an ongoing curfew. Each day a battalion of military and police vehicles stage in the historic Franklinton area.
Franklinton is home to a dwindling community of racially diverse citizens, representing much of the most underserved in Columbus. This is due to gentrification thanks to city infrastructure projects that will now protect Franklinton from flooding – but not from the flood of developers cashing in. This simple mechanism of capitalism, the ability to own another person's home, continues to inflict violence upon those not fortunate enough to have been born outside of a flood zone. Nationally, in neighborhoods like Franklinton is where the very seeds of state violence find their start.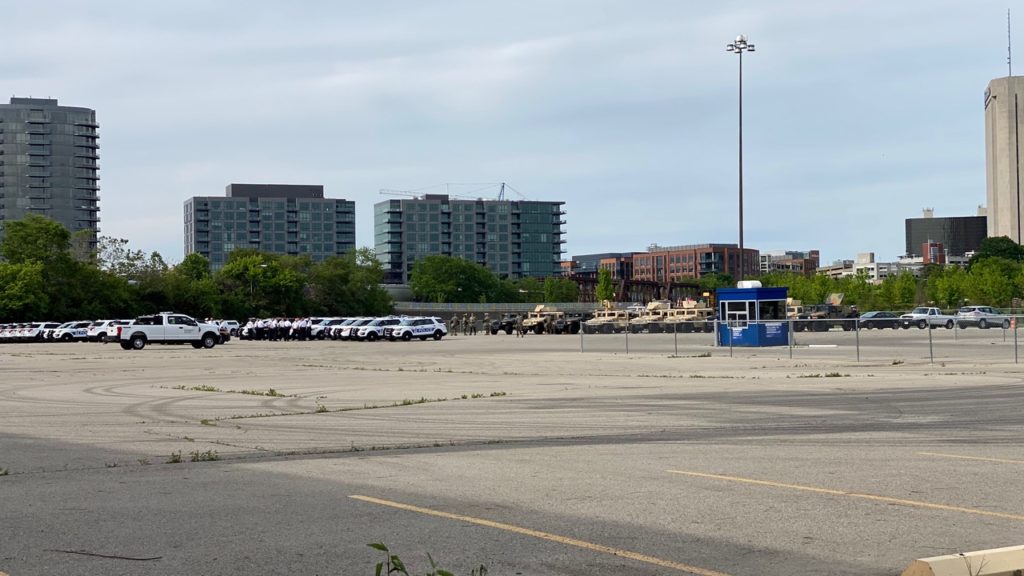 The phalanx of vehicles has been regularly deployed to keep traffic from entering or exiting downtown, leading the protestors to be kettled when curfew time comes with mass arrests and additional police violence.
Early on CPD has deployed a wide array of weaponry against the protestors including wooden and rubber bullets, pepper spray, chemical and stun grenades, and straight-up fisticuffs. In keeping with a theme, the arrests have primarily been people of color with the charges often falling along racial lines as well. On the third day of the uprisings, when five protestors were arrested by CPD, the three white protestors were later released of their own recognizance while the two protestors of color were both charged with rioting and held for bail.
As with many other police departments, the CPD was not afraid to inflict violence on the media or the very politicians who, under our political system, are meant to be the voice of the citizenry including as a way of controlling the police. During one night of kettling and hunting protestors as curfew arrived, CPD tear-gassed and used shock grenades against The Lantern Newspaper reporters who had clearly identified themselves. At one of the mid-day marches, Congresswoman Joyce Beatty, City Council President Shannon Hardin, and Franklin County Commissioner Kevin Boyce (all three are Black) were all maced by CPD when trying to intervene in the undue aggression officers were aiming at the protestors.
While the action of these three politicians is appreciated, it must also be taken in context: Earlier this year at the annual Columbus MLK Day Breakfast, both Beatty and Hardin chastised two comrades who interrupted a speech by Ginther. They were calling for justice for Julius Tate and Masonique Saunders, and of course, were doing so peacefully until being dragged away by CPD. Beatty proclaimed that the two members of Black Queer Intersectional Columbus (BQIC) were being "rude" and that "protesting at an event to honor Martin Luther King was not the appropriate place." Both comrades were arrested and held overnight with charges pending.
Every outbreak of violence during these protests in Columbus have been a direct result of the cops assaulting protestors first. The cycle of police violence that begat these uprisings in the first place continues to fuel the uprisings further. Ultimately, it is the destruction of property that remains one of the few tools the oppressed have when attempting to awaken the capitalists the police are protecting.
Fortunately, we have seen extreme resilience within this uprising. Even at the one-week mark, the crowds have not waned. At the 2 p.m. moment of silence, with the sky opened up like a firehose, hundreds of protestors, fellow workers, comrades lay upon the ground in front of a line of State Highway Patrol Officers – assigned to guard the Statehouse from the very people it belongs to – in celebration of what George Floyd has given us all: inspiration to organize for a world without police. For a world where being Black is not a death sentence.
During this week in Columbus, we have seen entire restaurant staff leave their jobs in protest of being forced to serve or provide food to police officers. We have also seen a plethora of local business owners who have proclaimed that some broken glass and graffiti is nothing compared to the loss of even one more Black life. Each day that we fellow workers (employed or otherwise) reconnect downtown there are signs of mutual aid everywhere. People line the marches to provide free masks, hand sanitizer, food and water, and medical aid. As curfew approaches a list of social media shout outs happen of places within the kettle that protestors can take refuge from being arrested.
We are crying out for someone to listen and let us hope now is finally that moment in history where we are too loud to be ignored.
In the past two days, our voices have been heard in the suburbs of Westerville and Worthington, Upper Arlington and Bexley. We have seen mass mobilizations of solidarity in these inner-ring suburbs, including those where the Governor and Lieutenant Governor live. While these marches were significantly more subdued than those happening in the city center, they have also brought out hundreds of mostly white suburban people who may be waking up to the reality of what the current capitalist police state has wrought. The march in Upper Arlington in particular had only one police officer assigned to it. Not surprising to anyone in attendance, there was no violence, because there was no police to inflict it.
Through the chemical smoke, the shouts of rage and pain, and the ferocity of mother nature, this voice being raised has seemingly, finally, landed at the feet of the petit-bourgeois and asked the eternal question: which side are you on?