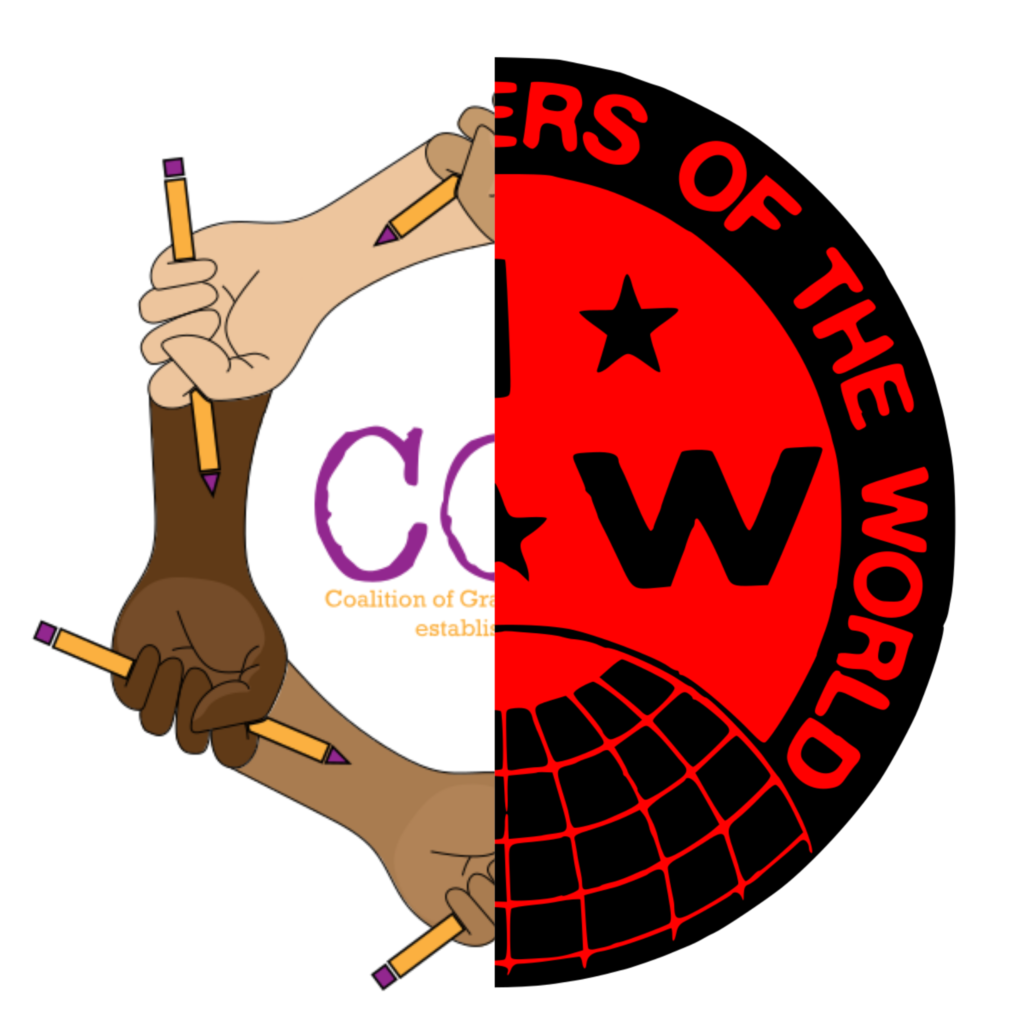 Sarah Pishioneri and Alexis Kiessling are in a unique situation, working as organizers and support staff for the Coalition of Graduate Employees at Oregon State University. Their employers — graduate student-workers at Oregon State — are perennially new to the labor movement. Their supervisors — the annually elected executive council of the CGE— are switched regularly. And they are the only two people in their bargaining unit, which is represented by the Industrial Workers of the World.
As odd as all that may be, Pishioneri and Kiessling feel they couldn't be in a better position to not only increase the IWW's reach in the Pacific Northwest, but to strengthen the entire labor movement.
"The people we work for are really down with the fact that we are a unionized workforce and a united workforce under the IWW," says Pishioneri. "I think that's a point of pride for our folks. As budding labor leaders, they are super-supportive of our rights as workers and of our union in general."
The CGE represents some 1,800 graduate student-workers at Oregon State and has been part of the American Federation of Teachers for more than 20 years. Two years ago, CGE voluntarily recognized the Mid-Valley IWW as the union for its staffers.
"It is a unique situation, for sure, in the world of work," says Kiessling. "I think it's pretty satisfying to be able to be a useful resource for members of the CGE. There's a lot of stuff that needs to happen to keep an organization running smoothly, and it's nice to be able to handle those things so that others don't have to be concerned with them. It frees people up to do more effective organizing."
Today, a number of CGE members are also members of the IWW. That dynamic, according to Pishioneri, makes for a highly "collaborative" relationship as the CGE heads into contract negotiations with Oregon State later this winter.
"I think they are stoked that we are unionized and that we're unionized with our local IWW branch," says Pishioneri of CGE members.
Kiessling herself was a graduate student at the University of Oregon before earning her degree and taking the operations support and co-organizer position with the CGE.
For her part, Pishioneri worked for the Labor Education and Research Center at the University of Oregon before coming to work for the CGE as an organizer. Sitting in on labor history classes afforded her the opportunity to become further educated about the IWW and its distinct place in the labor movement.
"The IWW, of course, is talked about in labor history classes — the good ones, at least — as a more radically oriented union that was largely swept away during the Red Scare," Pishioneri says. "The IWW has always operated under the auspices of 'One Big Union,' or organizing every worker, not falling into the classist belief in the difference between 'skilled laborers' and 'laborers' in general."
As organizers in the employ of the CGE, both Kiessling and Pishioneri are helping to train a burgeoning group of eager union leaders on how to better mobilize their coworkers in more effective collective action. As IWW members, they are also using the unique opportunity to train radical leaders to build the labor movement.
"It's a great way to plug them into other union efforts outside their employment at Oregon State," says Pishioneri. "The CGE may be the first union that they're a part of. Once they get their feet wet with CGE, there's a whole other labor movement out there. On top of that, there's also an opportunity for us as IWW members do some union work outside of our workplace, which is exciting."
Kiessling and Pishioneri are now working closely with the Mid-Valley IWW to develop new "salting" programs — organizing campaigns in which union members take jobs with the specific goal of organizing the workplace — in labor sectors throughout the state that are ripe for unionization, also known as "hot shops." Pishioneri calls salting a "tried-and-true method of organizing" that's not used enough today.
But as Pishioneri notes, it takes more than grit to pull off a successful salting campaign.
"We're trying to have folks really consider what they're doing, which is going into a workplace, building trust with workers, finding out their issues over time, agitating them around those issues and then organizing them into a committee to unionize their workplace. The goal is to do that under the IWW."
Interested in forming a union at your workplace? Contact the IWW today.