Targeted by Seattle Police for Thirteen Years, Wobbly and Anarchist Hoping to Settle in Major Lawsuit.
A Wobbly from Utica, NY is back in Seattle, WA to settle a lawsuit against the city and the Seattle Police Department, a lawsuit that stems from a wrongful arrest and false charges made at an antiwar demonstration in 2006.
Brendan Maslauskas Dunn was arrested at Seattle's Cal Anderson Park on October 5, 2006 along with two other friends because they carried an anarcho-syndicalist flag. A handful of Wobblies, Students for a Democratic Society, and other radicals were hanging out in the park before the rally started, when SPD Officer Matt Hyra grabbed the flag. "Officer Hyra came out of nowhere, stole our flag, and demanded we voluntarily turn ourselves in to the police for questioning. We were clearly targeted because we were Wobblies and anarchists," Dunn stated.
Officer Hyra assaulted and attempted to arrest an IWW member solely because he was being filmed. In the melee that ensued, Dunn and two others were taken into custody. Dunn was falsely charged with felony assault of an officer, while his fellow protestors were charged with misdemeanors. The IWW, SDSers, anarchists, socialists, and other activists soon came to their defense, dubbing the arrested the "Flag 3."
It was clear early on that the arrests were politically motivated. Dunn talked about what happened next. "When the three of us were in the precinct, Hyra kept asking us questions about anarchism, which anarchist groups we were in, and if we were planning any acts of violence that day. I refused to talk and that's when he pointed at me and yelled, 'Oh, you're the one who put his hands on me!' I scoffed at what he said. That accusation came out of left field."
Dunn was eventually charged with felony assault of an officer, and the flag was taken by the police as evidence. "They said it was a symbol that created violence," said Dunn. "I remember how absurd I thought this whole ordeal was when I was arrested. There was a picture of me posted in The Stranger from that day. There I was, wearing a pink dress shirt, and getting carted off by a line-backer-sized cop who had just tackled me to the ground. I was smiling too. I remember thinking: 'is this actually happening?' I did absolutely nothing! That's why I was smiling. I didn't know what else to do. I was in disbelief."
The disbelief quickly turned into bewilderment when Dunn was booked in King County Jail and had his first arraignment, where he read the police report for the first time. The report stated that he jumped on top of Hyra, repeatedly punched him, strangled him, and tried to un-holster his gun. The whole time, according to the police report, another cop on the scene politely and repeatedly asked Dunn to not attack Hyra.
This was not officer Hyra's first run-in like this. In 2004, Hyra brutally beat Seattle resident and Ethiopian refugee Oriyon Abraha. Abraha was an Ethiopian community liaison with the SPD when Hyra started harassing him, eventually culminating in an incident where Hyra attacked him, cuffed him, and beat him so terribly that Abraha's tooth was knocked out and his face bloodied. Hyra has also bragged online about totaling two police cars. He now works as a detective for the SPD and oversees any complaints people file against the department. "This is just another example of how the police are above the law," Dunn said, "the problem isn't one cop, it's the entire institution."
The charges for Dunn and his two friends were eventually dropped. The three sued the city with the help of Attorney Lawrence Hildes and his legal assistant Karen Weill (both IWW members), and won a settlement in 2009. The flag was finally returned to Dunn and an "alert" that was put on his name and sent to law enforcement databases was taken off, under orders from a federal judge. "The alert essentially had all this false information on me from my arrest," claimed Dunn. "So it was pretty unnerving to know that when I got detained by the police, something saying I beat up a cop in Seattle flashed on their screen." It appeared that the nightmare had ended, until Dunn had a number of encounters with law enforcement that suggested otherwise.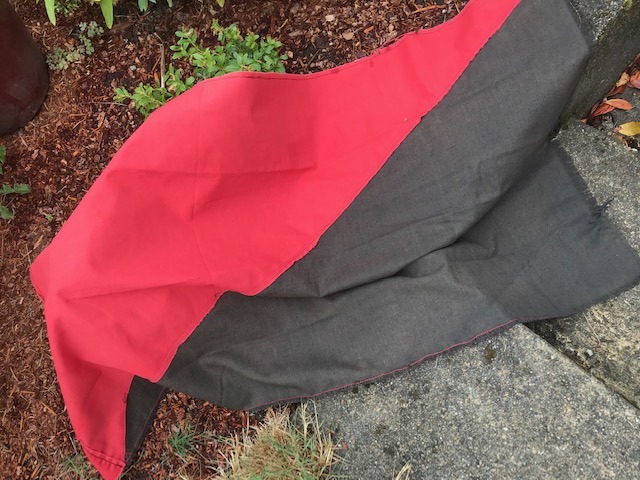 Dunn moved back to New York State in 2010. Even though he was 3,000 miles away from where he was first arrested, harassment from law enforcement continued. He was pulled over by police in New York on countless occasions. One constant with all these stops was that the attitude and demeanor of the police rapidly changed after they ran his information. A few officers swore at him, another group of police that pulled him over in New York City threatened to impound his car. All of them, after running his license, became very aggressive and threatening.
It wasn't until he was pulled over by a NY State Trooper in 2015 that it dawned on Dunn that his name was still flagged by the alert. The trooper, who gave Dunn a ticket for his registration having been expired by a few days, nervously asked Dunn if he had ever been in Washington State. "It sunk in after that. All those stops by the police, for no good reason, even detentions at the border with Canada, they all started to make sense." Dunn's attorney Lawrence Hildes worked with him to file a public records request and discovered that the Seattle Police Department had directly opposed orders given to them by a federal judge and placed the alert back on his name. They decided to file another lawsuit.
Even after filing, the trouble continued. In July of 2018, Dunn traveled to Akwesasne, Mohawk Nation, and Canada to visit his relatives. He was stopped at the border going into Canada by the Canada Border Services Agency and questioned for nearly two hours. "I've had trouble at the border before, so I would always deal with a fair bit of anxiety crossing borders. Whenever I was going to visit family, we all needed a back-up plan. It became crystal clear why I was being detained at this particular crossing." Several border guards surrounded Dunn and took him into a back room. They grilled him about his views on anarchism, on the police, and about his arrest in Seattle.
They finally and, according to Dunn, reluctantly, let him into Canada only after his sister-in-law and her mother showed up. "We were convinced that the only reason I was let in was because they showed up. There is a long history of Mohawk resistance against the CBSA and the militarization of the border, which cuts through the heart of Mohawk Territory. I think it dawned on them that I was connected to the community there and there would be hell to pay if word spread that I was not let in."
It was not the only time he was detained at the border but Dunn did discover that not only did police across the US have access to the alert, but law enforcement in another country did too. "Even with this lawsuit, how are we to know that this information will not still live on in all these databases? The damage is done. The Seattle Police have caused so much disruption in my life and it's been an ongoing issue for thirteen years."
Dunn paused for a moment, then said, "It's crossed my mind more than once, that this is it. This is the day. This is the day where that one cop who pulled me over is going to read this alert. If it's dark outside, or if I talk to him the wrong way, or move unexpectedly, or reach into my pocket to grab my wallet, who knows? That cop, after reading this alert on my name that falsely states that I beat up and attempted to kill a boy in blue… whatever happens next can be lethal."
Thankfully, that day has not arrived for Dunn but the fear is still there. Dunn and his attorney Lawrence Hildes are meeting with the attorney representing the City of Seattle and the Seattle Police Department to try and settle the case this Friday. "I'm hoping we can put this to rest," said Dunn. "But if they want to drag this out in court, I'm ready for that too.
As for the anarcho-syndicalist flag? "It was eventually returned to us. I still bring it to IWW pickets, rallies, and protests. I've never seen it cause any violence. That's what the police did in Seattle in 2006. And that violence has returned in different forms over the years. It's our job as Wobblies to create a world where that violence doesn't exist. It begins in the workplace, but it has to spread to other places where we are exploited as workers. We need a world without bosses, without police. And without borders."