For the last two years, workers at Call to Safety, a Portland, Oregon-based crisis hotline, have been building their union's power through a more active organizing committee. The Call to Safety Workers Union is organized with the Industrial Workers of the World.
The Call to Safety Workers Union was established in 2003 and won its first union contract the following year. Currently, all 24 regularly scheduled workers are union members, but there are hopes to expand the union to incorporate everyone who is not yet included. Workers have been successfully re-engergizing the union with an organizing committee since 2019.
"The union's been kind of quiet," says Kris L, a Call to Safety worker and one of two lead union organizers, also known as shop stewards. "To our credit, and the credit of our coworkers, it has become 10 times more powerful in the past two years."
The organizing committee of the Call to Safety Workers Union was formed to go beyond preexisting quarterly meetings between workers and management at the nonprofit organization, which serves survivors of sexual and domestic violence, in addition to providing advocacy, community outreach and education. Kris believed that more regular meetings for the workers themselves could enable them to identify and address a greater number of workplace issues.
Prior to the formation of the organizing committee, worker participation in the Call to Safety Workers Union peaked around contract negotiations. In contrast, the organizing committee began convening regularly, with nearly 75 percent of workers participating.
One way the new organizing committee has aided the Call to Safety Workers Union is by organizing demand letters and petitions to management signed by nearly all of the workers. Through such tactics, the organizing committee has helped workers obtain wage increases, greater health care coverage, and even paid time for union activities.
"We have 16 hours of paid union time a year," explains Erica O, another worker at Call to Safety and shop steward. "We have space and time to carve out where management's not there—it's just workers coming together. We have paid time, so people who might not otherwise show up for those meetings have incentive to come."
"Those are things that, without the organizing committee, would have been harder battles to fight," says Kris.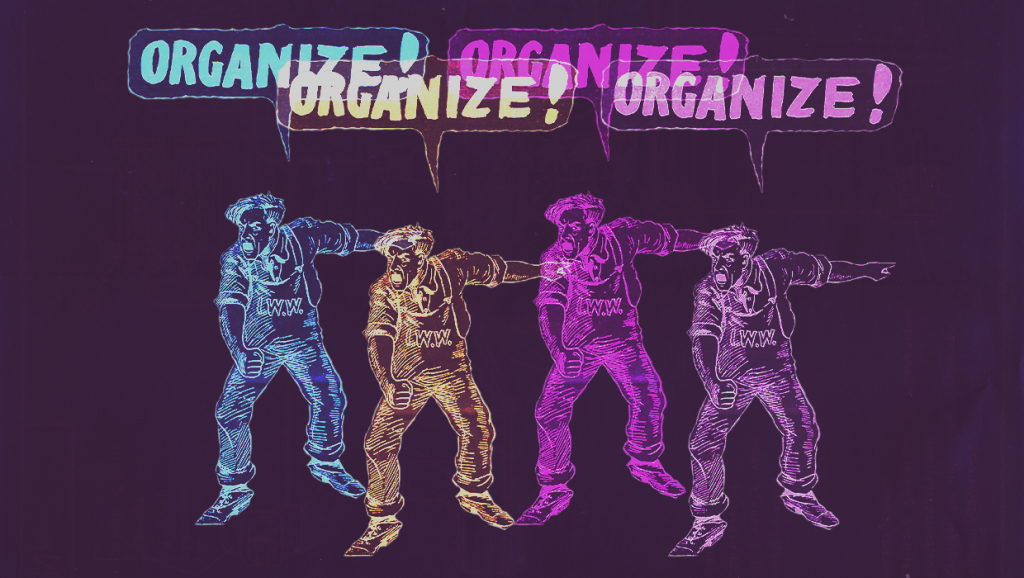 Moving forward, Kris says that the organizing committee will enable other workers at Call to Safety to lead the union's efforts, succeeding herself and Erica as shop stewards.
"It's become a space to help people develop their organizational skills," says Kris of the organizing committee. "When Erica and I transition out of stewardship, without a doubt, very strong organizers will take our place."
"We're ready to get some other workers into those roles," says Erica. "Getting other people onboard and splitting up that work really empowered other workers to be like, 'OK, I can step into this position.' Organizing is easier when you have a group of people doing it with you."
Kris and Erica say delegates from the Portland IWW assisted them in negotiating their last union contract and have supported their efforts to reinvigorate the union more generally.
"The last time we did our contract negotiations, we went through it with someone from the IWW, who helped us pinpoint what we could work on," says Erica.
"There's always been a real relationship with the delegates who are supporting us," says Kris. "They've been a huge resource to us."
With the success of the organizing committee at Call to Safety, Kris and Erica are now fielding inquiries from workers at other nonprofit organizations who are interested in learning more about unionizing their workplaces.
"We have made connections with other nonprofit workers, who have specifically sought us out as stewards to learn more about Call to Safety and learn more about nonprofit unionizing," says Erica. "I think that's so cool. I would like to connect with more."
Interested in forming a union at your workplace? Contact the IWW today!