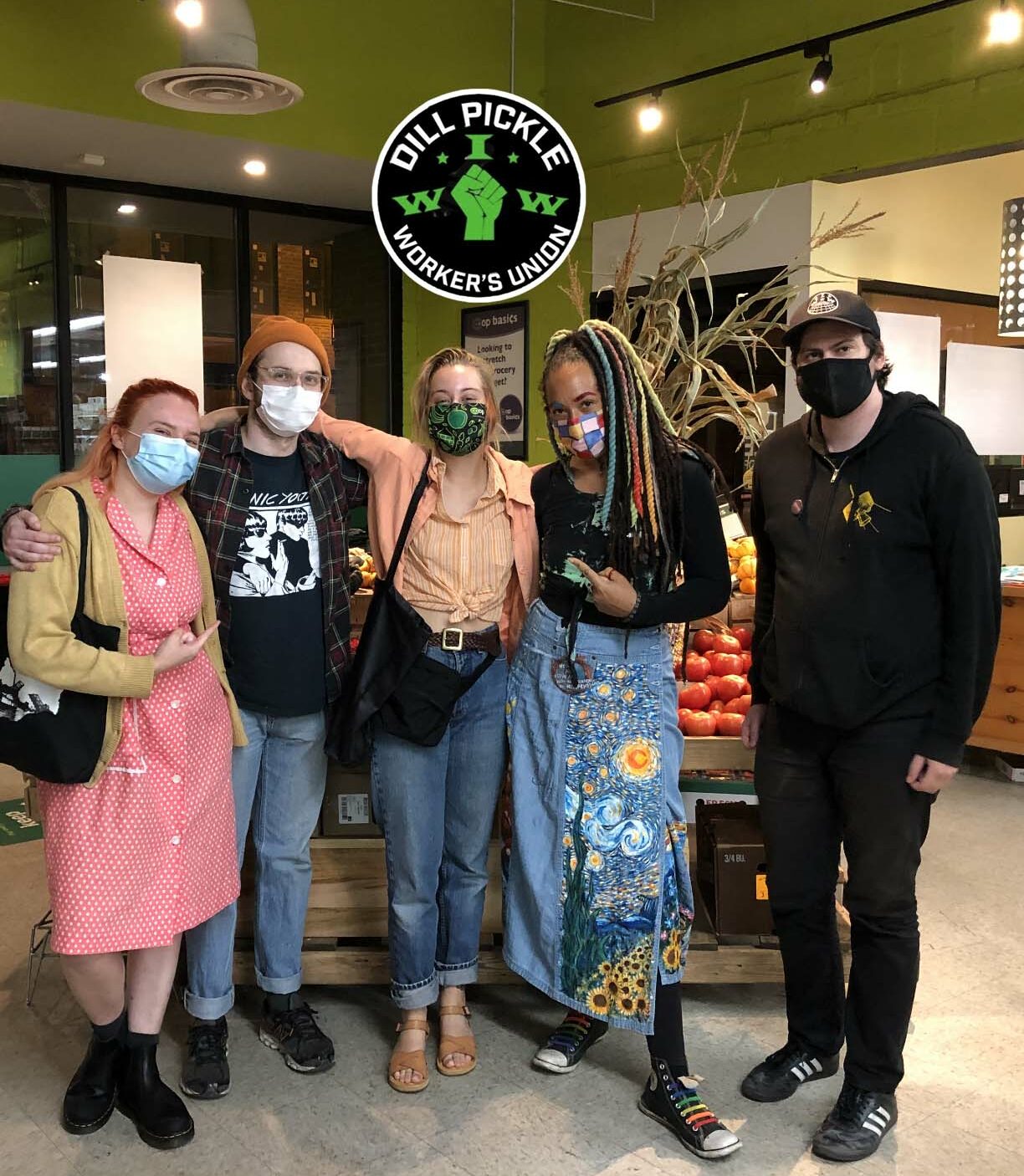 Last month, workers at the Dill Pickle Food Co-op in Chicago walked out over unsafe working conditions related to the ongoing COVID-19 pandemic. Workers at the grocery store are organized as the Dill Pickle Worker's Union with the Industrial Workers of the World.
Despite the recent surge in COVID infections nationwide due to the omicron variant, management at Dill Pickle has failed to maintain adequate safety precautions and even rolled back hazard pay and paid sick leave, which workers are contractually entitled to. These decisions by management come amid widespread acknowledgement of grocery store workers like Dill Pickle's staff as essential, frontline workers.
"I've been living in Chicago for four years and working at Dill Pickle for three years," says Alex Thomas, a member of the Dill Pickle Worker's Union. "We are being continuously gaslit about our own labor."
"Grocery store workers are on the frontlines," says Kait Murphy, an organizer with the Greater Chicago IWW, which supports the Dill Pickle Worker's Union. "They are around people day in and day out — hundreds of people, who may or may not be vaccinated or masking properly. For my Dill Pickle people, what they want is workplace safety."
The most recent walkout by Dill Pickle workers was only the latest in a series of collective direct actions taken by union members. Last summer, management rejected a ruling by the National Labor Relations Board that validated workers' complaints regarding union busting and unilateral changes to workplace policies. In response, workers launched a two-day walkout, forcing the store to shutter. To support Dill Pickle workers throughout these actions, the Greater Chicago IWW maintains a fundraiser, which supporters are encouraged to donate to.
The IWW acknowledges that the conditions faced by workers at Dill Pickle are not unique, but that workers must likewise unionize to change them.
"You don't need any qualifications to go about doing this work," says Murphy of unionizing. "No matter who you are or what your experience level, union organizing is about people having the will to do something about their working conditions."